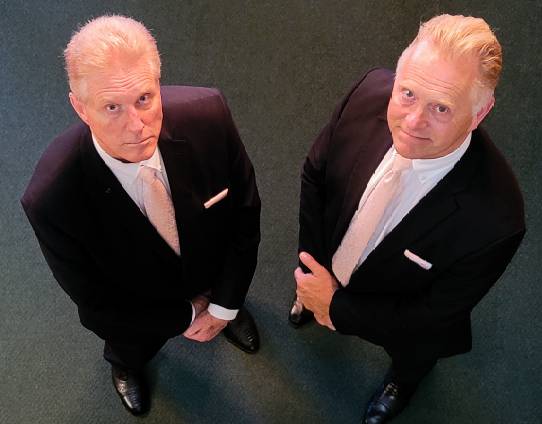 Meet Andrew Lloyd & Jaime Coulter
Over a quarter of a century ago, two warriors faced one another across the field of battle….. Each one silently and stoicly aware of the apprehension all soldiers feel prior to battle. The battle raged for over a year and a half and BOTH were victorious…... How could this be possible?
One warrior was a prosecutor for the county, the other a defender of the accused. During the battle, each warrior began to recognize and respect the skills of the other. During the course of the multiple cases they opposed each other, they formed the basis of an enduring friendship.
And now, 27 years later, that enduring friendship has become the foundation of a law firm dedicated to achieving justice for each and every accused individual. Together, their combined 70 years of criminal defense and prosecutorial experience have blended to produce a unique, dynamic and stress relieving experience for their clients.
Being charged with a crime can be the most overwhelming, stressful and traumatic event anyone will ever experience in their lifetime. Indeed, in today's social media environment, a mere accusation can be almost as devastating as a formal charge.
We would be honored to take on your burden and handle this unfortunate event in which you find yourself with the expertise and care required to ensure your rights are protected and justice is served.
The criminal defense attorneys at Orange County Criminal Defense Team understand the worry associated with criminal arrests and charges. Navigating through this complex process on your own without legal counsel can be traumatic and daunting, especially if you have no background knowledge of the California Penal Code and courtrooms. An unfavorable outcome from the case can change your life entirely because it will affect:
Your job prospects

Owning a firearm

School admission

Leasing an apartment

obtaining professional licenses
Therefore, it's essential to work closely with a criminal defense attorney to help you prevent a conviction by all means.  
Our attorneys have successfully defended defendants against misdemeanor or felony charges and those under investigation for crime allegations. We have the skills, knowledge, experience, and resources necessary to develop solid defense strategies bespoke to your case depending on its facts and your criminal history facts. 
We offer free consultations to our clients because we believe you deserve an opportunity to explain your case and understand your legal options before making a financial commitment. Our profound attorneys are available to listen to the facts of your case, analyze the prosecuting team's evidence, identify witnesses, and cross-examine the prosecution's witnesses to come up with the best defense strategies to contest the charges. 
During this initial consultation, we encourage you to ask any questions that might enable you to understand what to expect when the case begins. You can inquire about the legal professional who will be handling your case, the cases they commonly handle, their experience, and their success rate in previous cases. 
You can call us right after your apprehension to connect you with the right bail bonds agency to help with your pre-trial release. Besides, we will guide you when answering questions to help you know how to respond to questions during interrogation. We will explain what to expect during the whole process at the initial consultation and the penalties you could face if the case's outcome is unfavorable. 
If you decide to retain our legal counsel, we will develop defense strategies customized to meet the specific needs of your offense. Even before your arraignment hearing, we will contact that DA to negotiate a deal. If the case goes to trial, we are ready to fight tirelessly to have the charges reduced to a lesser offense or have the case dismissed.  
Finding the Best Criminal Defense Team
Our law firm understands how scary choosing an attorney for your case is because these are the individuals who determine the case's outcome. Finding the right attorney for the job is the most significant decision you will make after an arrest, and you must find the right professional for the job. To help you with this critical decision, we:
Answer any key questions you might have regarding the criminal court process

Evaluate every element of your case carefully without fear, 

Help you understand your legal options

Tell you the truth you need to know and not what you want to hear.
If you choose our law firm to represent your case, we are ready to consider the strengths and weaknesses of your case and devise the best defense strategy. We take an active role in case representation and will be with you from the beginning until the end of the case and ensure your rights are protected.  
Our Criminal Philosophy
Our attorneys know that prosecutors require strong evidence to file charges. When you are charged with a crime, it means the prosecuting team has a strong case. It's up to you to provide facts to show the court and the prosecutor that you deserve a fair trial and punishment. 
We are believers in meticulous preparations and are ready to work for long hours to win the case. Our attorneys are good in negotiations and are prepared to negotiate with the prosecution for a fair deal that will ensure you avoid jail custody. We have earned a reputation in disposition, house arrest with an ankle bracelet, and private jail placement instead of county jail or state prison. 
We understand that negotiations are much about respect, so we have worked hard to earn respect from prosecutors and judges in Orange County. Our advantage over competitors is knowing all the ins and outs of the local justice system, familiarity with local judges and court procedures. Therefore, we can negotiate with prosecutors and judges for any punishment that doesn't involve jail time. 
Our familiarity with local judges and prosecutors will come in handy when the case proceeds to trial. The reason being, we know the best defense strategies to apply in any charges to increase the chances of a favorable ruling. Our knowledge of local court proceedings also plays a massive role in the case's success. 
Working with our defense team is one way you can have the case dropped or charges reduced. We have helped many clients by having restrictive orders terminated, driver's license retained after a criminal proceeding and a DMV hearing, and defended against other crimes like domestic violence, drug crimes, theft crimes, sex crimes, and violent crimes. 
Our personal touch with cases makes us different from competitors. We take all cases equally and allocate them the necessary legal personnel, time, and resources to ensure we are well equipped during negotiations and trials. Therefore, we will not take your case and assign junior associates to focus on more prominent issues. Our clients want the best, so we allocate each case to an experienced criminal defense attorney based on the case's facts and circumstances. This ensures you feel confident that your case is in the right hands and that professional and reputable criminal attorneys are working to protect your interests. 
Why Should You Choose Us?
Aside from the experience that we bring to the table, some of the reasons you should retain our legal services include:
We are available around the clock, with a support team willing to answer your questions

We have experience handling all misdemeanor and felony charges under state and federal statutes. 
Find an Experienced Criminal Defense Attorney Near Me
Criminal statutes are sophisticated, and new legislation keeps the law evolving. Therefore, if you are charged with a crime, you should consider an attorney that understands the local courtroom and proceedings to defend you in court. It is the reason we invite you to reach out to us at the Orange County Criminal Defense Team at 714-467-2772 if you are faced with allegations or charges for a crime.